New CD – Easy & Free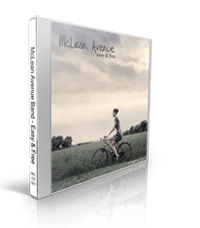 Full Track Listing

1. Wild Mountain Thyme
2. Goodbye Mick with Maudabawn Chapel Reel
3. Easy & Free
4. Feel the Same Way Too
5. The Water is Wide / The Sally Gardens Tunes6. Wagon Wheel
7. Galway to Graceland with Wing Commander Donald Mackenzie Reel
8. Matthew's Waltz
9. Bluegrass in the City
10. Celtic Symphony
11. Trouble in the Fields
12. The Devil Went Down to Yonkers
13. Forty Shades of Green
14. Pedestal
McLean Avenue's long awaited new album is now available for download and shipping. The album contains 14 tracks covering the bands vast rage of styles and influences from playing with different artists over the past twenty years. McLean Avenue have produces a super-band sound only afforded to professional musicians like those within the group. Easy & Free is uplifting, emotional and above all, heart-felt. Old Irish ballads tenderly woven with original versions of elevating Celtic tunes. Contemporary songs given a new lease of energy and some excellent original masterpieces within by the band; this album has it all and you will cherish it for sure.
Listen to some tracks from the album

Audio clip: Adobe Flash Player (version 9 or above) is required to play this audio clip. Download the latest version here. You also need to have JavaScript enabled in your browser.

Audio clip: Adobe Flash Player (version 9 or above) is required to play this audio clip. Download the latest version here. You also need to have JavaScript enabled in your browser.

Audio clip: Adobe Flash Player (version 9 or above) is required to play this audio clip. Download the latest version here. You also need to have JavaScript enabled in your browser.

Audio clip: Adobe Flash Player (version 9 or above) is required to play this audio clip. Download the latest version here. You also need to have JavaScript enabled in your browser.

Audio clip: Adobe Flash Player (version 9 or above) is required to play this audio clip. Download the latest version here. You also need to have JavaScript enabled in your browser.
---
CELTIC EVOLUTION CD

TRACK LISTING

1. South to the Border

2. Past the Point of Rescue

3. Your Spark

4. Amazed

5. A Day We Had Forever

6. In the Sky

7. Friend of the Devil

8. An Old Storybook

9. Dreams Will Come

10. The Homes of Donegal

 

 
---
Galway to Graceland Live DVD
Filmed on Saint Patrick's Day, this Live DVD features a celebration of Irish and Celtic music, song and dance. McLean Avenue Band are joined on stage by Emerald Fire Dance. The DVD captures the energy and uniqueness of Irish culture with delightful ballads, toe-tapping traditional Irish music and up-beat folk. The truly magnificent Emerald Fire Dance troupe performance breathtaking choreography to compliment the band music. This DVD includes a wide range of live performances of McLean Avenue's CD "Easy and Free" along with new original material.
Tracks Include:
Ireland (I'm Coming Home)

Jigs – Go Lassie Go

Good Bye Mick

Forty Shades of Green

Easy and Free – Mursheen Durkin

Pedestal

Irish Drum Dance

Raglan Road

Galway to Graceland

Wagon Wheel

Celtic Symphony

Hard Times

Ratlin Bog

Fields of Athenry

Wild Rover

Tell Me Ma – Cotton Eyed Joe

The Devil Went Down to Yonkers
Running Time : 90 Minutes Approx.
Buy Now for $29.99 (Click Buy Now button below)
---
Christmas on McLean
by the McLean Avenue Band.
A single that sends out Christmas cheer and spirit to all!

Recorded in 2012, Re-released on 11/21/13. McLean Avenue Band, an Irish band based in the New York area, will donate all the proceeds of this year's release to The Hurricane Sandy victims relief fund.

Listen to a sample:

Audio clip: Adobe Flash Player (version 9 or above) is required to play this audio clip. Download the latest version here. You also need to have JavaScript enabled in your browser.