For General Release:
(Please use the following text as editorial copy for your publication)
START:
McLean Avenue Band is an eclectic mix of musicians that blend together to create a dynamic, vibrant and memorable musical experience for audiences everywhere.

A very professional, talented and extremely entertaining line-up that boasts very impressive resumes as individuals, to bring you the very best in Irish, Country, Rock and Pop, as a group. Although they are from the heart of Ireland they are well known in the Irish/Celtic scene in the Tri-State area also and have electrified stages worldwide.
McLean Avenue Band masterfully combines Traditional Irish tunes and ballads with elements of Rock, Pop and R and B. As a result, this "Super" Band has the unique ability to appeal to a broader spectrum of audiences. Be it an uptempo chart topper, a lilting waltz, a classic rock anthem or a heartfelt ballad, McLean Avenue fits the bill!
All of these components make them highly sought after for Festivals, Concerts, Corporate Events, Private Functions and last but by no means least, Weddings.
Their charismatic stage presence makes it impossible for them to be anything other than hugely entertaining.
END

---
Quotes from other media sources:
---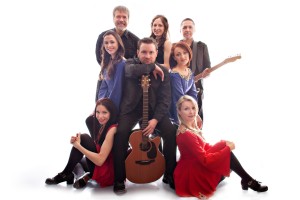 McLean Avenue Band
By Spotlight Central. Photos by Love Imagery.
Sparks flew during this group's interactive performance, which included a unique array of traditional Irish songs and Celtic tales in addition to rockabilly and bluegrass originals.
The leader of McLean Avenue band is singer/songwriter, Padraig Allen, who was born in County Westmeath, Ireland, his first visit to America in early 2000.
Allen's vocals, guitar playing, storytelling, and emcee skills provided the thread, which unified this unique tapestry of an evening. Woven into the fabric were such Irish favorites as "The Rattlin' Bog" and "Cockles and Mussels." But there will be lots of surprises, too, including high-energy cover versions of Old Crow Medicine Show's hooky "Wagon Wheel" and British songwriter and guitarist Richard Thompson's captivating "Galway to Graceland."
Backing up Allen were McLean Avenue band members Kevin McHugh, a native of Dublin, Ireland, on drums, pipes, and vocals; Geoff Hartwell on Guitar, banjo and vocals; Joe Biancorosso on guitar and vocals; and the impressive All-Ireland Under-18 Fiddle Champion Jake James on fiddle and bodhran, a traditional Celtic frame drum.
Guitarist Joe Biancorosso, originally from Italy, blows away every audience with a glowing version of the Andrea Bocelli favorite "Con Te Partiro" on vocals and Fender electric guitar.
Just when you think that's it, they hit you again for yet one last surprise, fiddler extraordinaire Jake James delighted the Strand audience with his fiery version of a traditional Irish broom dance!
During the course of this interactive evening — which featured lots of audience participation in the form of singing, clapping, and prancing in the aisles — Padraig, and McLean Avenue group is sure to surprise the crowd by inviting audience members of all ages to participate in some lively Irish dancing!
This talented group of musicians will be sure to surprise every audience with several cuts from their critically-acclaimed CD, Easy & Free?—?some of which one might likely expect to find on a Dave Matthews Band album rather than on a so-called "Irish Music" CD.
All in all, if you like raucous fiddle, traditional Irish/Celtic songs, and Celtic tales — all wrapped up with a bow of red-hot rockabilly tunes — then surprise a friend, a family member, or yourself (!) with tickets to a McLean Avenue Band performance. You'll be sure to find yourself feelin' Easy & Free all the way "From Galway to Graceland!"
For more on the McLean Avenue band?—?including information on their latest CD, Easy & Free — see mcleanavenueband.com.
---
It was great meeting you and the band, thanks again for waking up so early for the TV segment. Kristin

---
"The group has mastered the art of blending the old and new, embracing
the traditional while adding their own signature sound – a sound that
screams fun."………The Irish Echo.
---
"The Brand New Sound From McLean Avenue Band"
WRHU-FM, Hofstra University Radio presenter Tony Jackson.
---
"Padraig [Allen] is a natural entertainer with an exceptional voice, an
amiable demeanor, and a gift for putting a new spin on traditional
songs." ……..Mike Farrager.

---
"…vibrant young musicians who were born to be on stage. Other members
of the band include the three time all Ireland accordion champion
Buddy Connolly, guitarist and bass player Joseph Biancorosso, and the
Tipperary-born drummer Tony Ryan."
"…the addition of dance into the McLean Avenue experience is brilliant.
Especially the contemporary style of Joanna Barry Connolly, founder of
the dance company, Emerald Fire."
The band is editing some brand new video from this past St. Patrick's
Day show at Bergen CC. It is great and I will have that in a few
weeks.
---
Editorial copy for "Galway to Graceland" shows:
McLean Avenue Band & Emerald Fire From Galway To Graceland Direct from Ireland, Padraig Allen's McLean Avenue Band and Joanna Barry Connolly's Irish dance group, Emerald Fire, perform a dazzling array of Irish music, song and dance.
Their interactive shows include magical footwork, raucous fiddle, traditional Irish favorite songs, Celtic fairy tales and critically acclaimed rock and bluegrass originals.
Video 1: http://www.youtube.com/watch?v=51ZtUaMv6jA&sns=fb
Video 2: http://www.youtube.com/watch?v=5sNoYoGFQ9Q
Editorial copy for St.Patrick's Day show featuring McLean & Emerald Fire:
St. Patrick's Day show with Padraig Allen's McLean Avenue Band and Joanna Barry Connolly's Irish dance group, Emerald Fire. The production, From Galway to Graceland features a dazzling array of Irish music, song and dance.
This multi-talented, charismatic crew, direct from Ireland, has "all ages" audiences dancing in the aisles and singing their hearts out! The interactive show includes old Irish favorite songs, Celtic fairy tales and dynamic originals.
McLean Avenue Band is lead by singer/songwriter Padraig Allen. He was born and raised in an urban village named Mount Temple, outside the town of Athlone, in County Westmeath, Ireland, where the Shannon

waters flow. Padraig comes from a long line of successful Irish Traditional/Country musicians and singers. His uncle Tony Allen from the famous "Foster & Allen" was mainly responsible for kick starting his career; engaging Padraig to tour with the band. In 1993, one of Padraig's first performances was on a show called "Big Top" on the
Irish TV network "RTE". In 1999, he landed on American shores with the popular Irish Band "The Whole Shabang" as lead singer and bass player.
Currently Allen has been touring the US and internationally with McLean Avenue. Their new album, Easy & Free has been receiving critical praise and radio airplay. WFUV regularly reports the band as being one of their favorite bands on the scene. Allen notes, "My love for America & my own country, Ireland, leaves me singing "God Bless
America & God Save Ireland".
Emerald Fire is lead by director/choreographer Joanna Barry Connolly.
Dublin born Joanna began her Performing Arts training at the age of three. The daughter of a rock singer and a professional dancer, she studied Ballet, Jazz, Modern and Tap. However, it was Traditional Irish Dance that became her passion, both as a performer and choreographer. Her long running career as a professional dancer has led her on tour from Ireland to Europe, Japan and the US; from The O2 Theatre in Dublin to Carnegie Hall, NYC and TV appearances on RTE (Ireland's National Broadcasting Station) NBC "Today Show", Fox NY and PBS. From it's debut in Austria in 2001, at Landeck Concert Hall and the Vienna Music Festival, to shows at Mohegan Sun and NYC's Battery Park, "Emerald Fire" has been treating audiences to their unique ability to introduce jazz, ballet, tap and even hip hop into their dynamic, multi faceted, diverse and hugely entertaining Irish Dance performances.
Padraig and Joanna's collaborations began with The Whole Shebang. The groups were commissioned to perform together and audiences responded superbly. They also toured together with Andy Cooney.
Given their background and their mutual desire to bring other ethnic influences to their shows, Padraig and Joanna felt they were a perfect production partnership. McLean Avenue Band and Emerald Fire compliment each other in every aspect and proudly represent their Irish heritage in the fast moving, ever evolving Irish music scene.
---
MOST POPULAR HI-REZ IMAGE FOR CONCERT SHOWS


---
FIND MORE IMAGES HERE: